2018 is coming to an end, and this gives us the perfect occasion to evaluate the year. Read what our founders Sven Hecker and Christian Hemmrich have to say about the last 12 months and the future of Clevver!
How would you sum up 2018?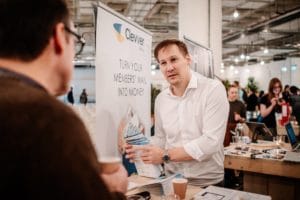 Sven Hecker: 2018 was definitely the most intensive year that we had so far. In the last 12 months, we succeeded over many challenges, developed our system greatly and had the biggest employee expansion in the history of the company. We moved to a bigger office, introduced literally dozens of new locations and added some completely new products to our portfolio. Now we have a new website that gives much more information about our products, a customer account that matches higher UX/UI standards plus a Spanish website and customer service. It's exhausting just to list all the novelties that were introduced.
It seems indeed that Clevver is a completely different company than it was one year ago.
Christian Hemmrich: Well, it was always our intention to steer things to the direction they are heading now. Clevver was dreamed in a way that it will serve many purposes that lead to the exact same point, which is easier internationalization. I'm very glad that we could make this jump little by little, and I'm also proud that we're not only a company digitizing letters, but also a solution for customers who want to expand their business globally.
How did the users react to all the novelties? Did they find it difficult to accommodate?
Hemmrich: The customers' reaction to changes is always a bit incalculable, and there were moments when we received a lot of questions. But in the meantime, our Customer Relations team grew as well, so we're simply more prepared. Also, that and the fact that the products are logically linked made our job easy in that respect. For example, our new ClevverNumber product with local phone numbers in almost 80 countries was easily welcome by our customers.
What were the nicest memories related to Clevver in 2018 for you personally?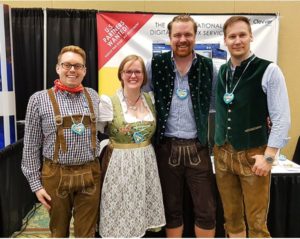 Hecker: When we went to the RS Expo in Orlando in the US, that was very special. We were the only German company and we decided to make ourselves stand out with "traditional" attire. We looked quite funny! But it made the effect, because everybody came there and asked what we do. We got a lot of partners in the US thanks to that.
Hemmrich: I enjoy whenever there is a celebration of some kind among us in the office. We regularly do some surprises for those having a birthday and try to make some dates really special: our stylish Halloween lunch or our last great Christmas dinner, for example, were both great.
How do you see the company one year from now?
Hemmrich: We would like to continue the path that we started in the last months, with further developments to our products and our website. We're always working on adding new tweaks, features and languages to the existing setup, so instead of looking in a completely new direction, we will polish what we already have.
Hecker: Hopefully, there will be even more employees to come so we can achieve our goals quicker and more efficiently. We cannot tell precisely what we would like to introduce, but yes, we will basically do what Christian described: adding more locations and more functions to our existing ones. We also want to go to the RS Expo once more and look for other opportunities where we can introduce our product and service in front of the general public.
How will you spend the rest of 2018?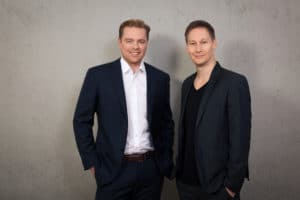 Hecker: The holiday season is here so our staff goes into a kind of a winter sleep, too. We're an international team with families and friends across many countries, so we will all use this time to spend time with them. We will do due communication on our different channels for the festivities, so we hope our users will share the holiday atmosphere with us.
Hemmrich: And we will try to survive the fireworks chaos in Berlin. It's always absolutely crazy what happens here on New Year's Eve.