The trend of coworking is steadily on the rise, as it is proven by the Coworking Europe Conference that has been organized for the 9th time in a row. We were at the Amsterdam event to gain insights about the scene and to see how Clevver contributes to it. Read what we experienced here!
What did we see?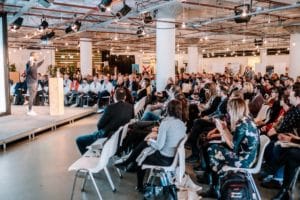 First and foremost: that coworking is huge. Thousands of coworking spaces exist around the world in 2018, and with the mobilization of workspaces, this number will hardly decrease. No wonder that Amsterdam was chosen as the location, as the capital of the Netherlands is also among the capitals of coworking, with the venue itself being the pinnacle of it all. It is a bright example of how well different visions and attitudes can fit under the same roof in a complementary, and not in an exclusive manner. Hundreds of participants from all over the world (America, Asia, Africa and more) were here to see the most urgent questions of the scene that were discussed in various panel talks and presentations.
What did we learn?
The most eye-opening thing was how expansive and interconnected coworking is with various fields that at first sight don't necessarily have much to do with it. Apart from bona fide coworking space operators, we met companies focusing on lock and sensor technologies, property access systems, cloud managed printing and many, many more. It was good to see how coworking affects and helps other industry branches, even more if we consider that most of the people in coworking are active in highly innovative and groundbreaking fields. Apart from the participants, the program schedule itself was also inspiring and exhaustive, with blockchain technology, the Israeli coworking boom or gentrification being on the agenda.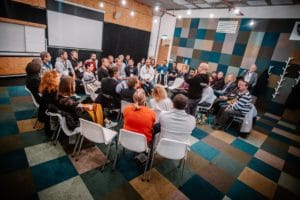 What did we do?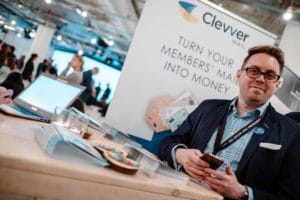 Clevver was among the Emerald sponsors of the event, and our CEO Sven Hecker and Head of Marketing Stefan Wölcken took the chance to talk about how our virtual office concept, our mail digitizing solution or our white label software could fit into coworking. We again saw that there is a need for postal mail management: even though most of the work that is done in coworking areas is predominantly digital, there are still areas in the workers' and coworking space operators' life (civic procedures, official registrations, etc.) that cannot be shortcut online. Besides our message, we shared Haribo gummy bears to wittily refer to our German origin. Not only did we gather a lot of interest in our white label solution and our network of worldwide locations, but we also got some projects on their way, so that in the near future a lot of coworking spaces will be able to use our solution without leaving their well-known management tools behind. As Coworking Europe is a conference fuelled by the input of its participants, our Head of Marketing co-hosted a session on the right coworking management software and ways to automate the frontdesk and thus increase revenue. If you are interested in the notes, the interesting tools mentioned and a blueprint on how to decide for the best-matching software, get in contact with us at [email protected]
What did we do?
It would be very difficult to predict the future of coworking, however, with such a powerful infrastructure and a prudent pool of participants, we believe that every challenge that was touched upon at the conference will be solved with very positive results. Security, privacy, growth and digitization are still paths to discover fully, but luckily, companies like us are here to resolve even those needs that you didn't know existed.
You can check more photos about the event on the Coworking Europe Conference Facebook page!