US bank account
for your LLC & Inc.
Without the need to travel to the US
The first fully remote US bank account
Having a local US bank account is essential for doing business. But due to laws and money laundering regulations, opening a bank account from abroad seems impossible, even if it is for a local company.
Clevver cooperates with a local US bank, providing bank accounts for companies owned by non-residents without the need of them being there in person.
Non-redident company owners don't need to travel to the US
Especially when you are a Non-US resident. Opening a bank account can be complicated:
With most providers you will have to fly to the US and meet the bank clerk in person.
Not with Clevver. We open a company bank account fully remote and digital.
So you can have a real US bank account for your company without the struggles of travel costs or visa applications.
Remote US bank account for companies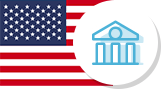 1.499 € /
1.749 $
consultancy of our legal experts
special tailored bylaws/ operation agreement for your company
remote opening of a US bank account for non-residents
Talk to our company formation experts
The best digital incorporation service
Internationalize your business without a big budget
We make it as simple as possible for you to do business in every country of your choice.
With our meta platform for internationalization, opening business entities in multiple countries is lean, fast and affordable.