Your own US company
with a US bank account
Without the need to travel to the US
The first fully remote all-incl. US company incorporation service
Starting a company in the US seems easy. But when you are from abroad, you will have to fly to the US for signing papers and opening a US bank account.
We can establish a US-based company on your behalf and you don't need to leave your home. You won't need to travel, you won't need to apply for a visa.
Our specialized legal teams make sure that your incorporation meet all the legal requirements and is compliant with all applicable laws and regulations.
Your own company in all 50 states
No matter if you want to have an LLC or an Inc. together with our specialized lawyers
we will establish your company on your behalf in your favorite US-state.
US Bank account included – without traveling to the US
With most providers you will have to fly to the US and meet the bank client manager in person.
Not with Clevver. We open a company bank account fully remote and digital.

no presence needed
When we say 'fully remote', we mean 'fully remote'. You do not need to come to the US. Yes, you read that correctlyt: We, at Clevver, make it happen; you don't need to travel to the US for establishing your company or opening a bank account.

bank account included
Having a local bank account is essential for doing business. A local US bank account for non-residents is included – but contrary to other providers, with Clevver, you don't need to travel to the US to open the account. This will be done fully remotely.

100% digitally
We make it as simple as possible for you to do business worldwide. And nothing is simpler than communicating digitally. With Clevver you won't need to fill out forms and run for stamps: we are fully digital.

unmatchable price
We don't believe in small prices with a big small print. Compare our all-incl. price with the final price of other providers and the specialized lawyers and you will see: Clevver's price is unmatchable.

all 50 states
Starting business should be as easy as 1-2-3. With Clevver it is. No matter if you want to have your company in Alaska, Delaware, Florida or Wyoming, we will provide you with everything you need to succeed.

all-in-one
This incoporation-package has everything you need included: LLC or Inc. in all 50 states; special tailored Bylaws; Registered Agent Serivce for 1 year; Employer Identification Number (EIN) and an US bank account.
US all-incl. incorporation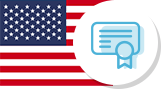 2.499 € /
2.749 $
LLC / Inc. formation in the US state of your choice
special tailored bylaws/ operation agreement
state fee
fully remote incorporation process
Registered Agent for 1st year*
EIN (Employer Identification number) application
US company bank account, fully remote
yearly costs after 1st year:
Registered Agent: 150 € / 165 $
Talk to our company formation experts
The best digital incorporation service
Internationalize your business without a big budget
We make it as simple as possible for you to do business in every country of your choice.
With our meta platform for internationalization, opening business entities in multiple countries is lean, fast and affordable.