Become a Partner of Clevver Network
Do you have your own attractive metropolitan location that will be appealing to our business customers – and could help you earn more every month?
Then be clevver and get in touch! We are the leading digital virtual office provider and we're looking forward to getting to know you.
If you are interested in starting a fruitful collaboration with us, simply send us a message. We will normally be able to give you a personalized response within 24 hours. We're also available to answer any questions you may have. We're excited to find out how we can support you in your business ventures.
Our Partnership Models

Official Partner Location
For our digital postbox service ClevverMail, we are looking for new international partners who can help us offer further business locations to our customers.

Affiliate Network
You have a website or blog and your topic is doing international business, incorporation business, virtual offices, digital nomads and travelling? Then Clevver has the right services for your readers.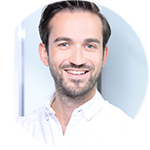 Philipp-Oliver Mager
Head Of Operations