Loading...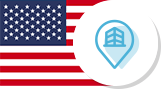 109,00 € /
119,00 $
A registered agent is a mandatory service for companies in the US.
It is a responsible third-party, legally allowed to receive documents on your company's behalf - i.e. tax-related letters, statutory mail, notes of lawsuits and other letters from various governmental bodies.
The benefits of the registered agent service:
Always receiving important documents sent by the local regulators, hence less legal complications
Flexibility – one can freely travel or be absent from the office, official letters are always taken care of
Privacy – companies usually receive tons of mail, and one might not want every kind of letter delivered to the same space where employees and clients are present
Clevver offers registered agent services in every US state - all are state-certified & accredited with the government.
Choose your state below:
Going global? – Be Clevver!
Internationalization as a service
We make it as simple as possible for you to do business in every country of your choice.
With our meta platform for internationalization, opening business entities in multiple countries is lean, fast and digital.